Prof. Dr. Muhammad Faheem Malik
Designation :
Professor
Email : [email protected]
Office Number :
+(92) 533643112-07
Office Exten :
118, 218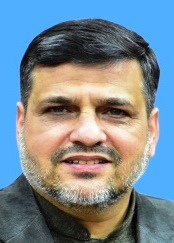 Professor of Environmental Entomology & Pro-Vice Chancellor, University of Gujrat (UOG), Punjab, Pakistan.
Former Vice Chancellor (UOG).
Former Vice Chancellor, Punjab University of Technology Rasul, Punjab, Pakistan.
Former Dean Faculty of Science (UOG).
Former Dean Faculty of Computing & IT (UOG).
Former Dean Faculty of Agriculture, Lasbela University of Agriculture, Water & Marine Sciences (LUAWMS), Uthal, Pakistan
---
After Graduation in Entomology from the University of Agriculture Faisalabad, Pakistan he proceeded to USA to get MS from New Mexico State University, in Biological Sciences (Entomology) through USAID Fulbright scholarship. After the evaluation of PhD dissertation from USA and Egypt, he was awarded degree from the University of Balochistan, Pakistan.
He is serving Pakistan for the last thirty years at various executive levels in administration, research and higher education. Besides an author of two international books published in Germany, he also contributed to the field of research with more than hundred national and international publications.
The diversity of his professional experience includes Vice Chancellorship, Pro-Vice Chancellorship, Dean of Faculties, Chairpersons of various University Departments, Directors of various Institutes, Director Students' Affairs and Director Planning and Development. He also served to several statutory committees as Chairman / Convener / member. His research addresses to the fields of Biodiversity of Fauna, Environmental Entomology, Integrated Pest Management, Applied Entomology, Molecular / Medical, Environmental Biology, Biological Pests Management, Systematic Entomology and Zoology.
He has prominent experience of planning and development and establishment of new universities, faculties, academic departments and institutes. He has prepared and executed several developmental and research projects. He has organized / conducted > 150 Workshops / Trainings and delivered various seminars in USA and Pakistan. His is mentoring PhD and have been supervised more than 60 MPhil and >10 MSc/ BS scholars.
He prepared and revised various curricula for various undergraduate, graduate and doctorate degree programs. He is an editor of various international research Journals and was awarded best teacher award by HEC during 2009.
He believes that it is a matter of concern for all researchers that even with a high rated young / experienced talent pool; we are not among the top most R&D institutions of the world. We have a huge list of world renowned agriculturists, chemists, botanists, zoologists, sociologists, economists, psychologists and other scientists, but countable numbers are patent among them. Our young scientist is confused in setting up his future path. Our hundreds of national issues are still to be addressed but we are conducting research of fantasy, which might help others but not to this poor country. Even our most of the research policies are not in the line of our demands. If, at one end, inter disciplinary collaboration is required, on the other end, bridging among research institutions and industry is deficient. In most of the cases, our missions do not match long term umbrella policies of our government. There is no doubt that scientists are the back bone of the research institutions but they are being deprived of resources. On the other hand, we are investing least on human development. There is a dire need to establish sustainable environment to fill this gap. In such a way, not only the skills could be improved but also the needy but intelligent and enthusiastic researchers could be benefited.
He loves to work in a free and creative environment as a motivational and supportive team leader to uplift higher education and meaningful research for university building economy. He has proved himself an honest, conscious, truthful collaborative, distinguished strategic planner, financial manager, resource developer and pedagogic team leader to work with his colleagues in the best interest of this nation. He as educationists/scientists works on indigenous problems through indigenous resources and is trying to transform the nation into a knowledge-based economy.