Message
The world is changing with the speed of light – Lets redefine the basics
We believe in Innovation, Disruption and Entrepreneurial Passion and we have inculcated in the foundation of this business incubation center. We hope to keep the flag of innovation high. The world is rapidly progressing and so are we. It's the time for crazy ones, rebels and millennials to change the business models and paradigms with automation, convenience and ideas. It's a high time to link Entrepreneurship with Academia. This is the time of digitalization, empowerment, innovation and collaborative environment.
It was once a promise, we are here with performance. We do not gauge our performance by the gigantic magnitude of our buildings and infrastructure, which independently can lay claim to grandiose. We judge our performance by the contribution in student development and acceleration. Business Incubation Centre would gauge efforts through the mentoring and usefulness of the enabling environment to set up successful businesses and offer an opportunity to our students to exploit their potential and talent in the best possible manner.
Its not about winning but competing and learning from failures.
Best of Luck
About Us
In collaboration with Higher Education Commission, Pakistan has established the Business Incubation Centre (BIC) at University of Gujrat vide Letter No. 1-1/ILS/BIF/2015 dated 29.06.2015.
Business incubation is a business support process that accelerates the successful development of start-up and fledgling companies by providing entrepreneurs with an array of targeted resources and services.Business Incubation Centre intends to produce entrepreneurs, who can contribute towards the society and national economy. BIC intends to provide management guidance, technical assistance and consulting tailored to young growing companies, which is in-line with the vision of the Worthy Vice Chancellor "Universities building societies". Our focus is not only on Tech-Startups but Social Enterprises as well. Our believe is serving community by empowering them.
Since its inception, the BIC has made noticeable progress towards its objectives and goals. In short the BIC has selected incubates after evaluation process and allotted them 'Ready to takeoff' work space, organized training / mentoring sessions for incubates in collaboration with British Council, SEED, Industry Gurus and SoftOven etc.
Vision and Mission
Creating a sustainable eco-system to provide support to Golden triangle of Pakistan and inculcate entrepreneurial skills in academia
Bucket list
Top 15 Teams would be provided with incubation
Seed Money to incubatees and connecting others incubates with investors/venture capitalists
Office Space, Business Room, and other office accessories
Networking and Mentoring
Legal assistance in Intellectual Property and Company Formation
Part of Global Incubation Network
24/7 Wifi Internet availability
Lounge and Quiet Room
Selection Process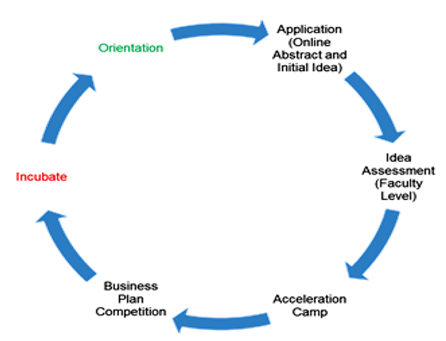 Accelerator Camp and Ingredients
Our Accelerator Camp has following segments on mentoring list. These sessions are delivered by the Gurus of respective fields. They talk about perspective of millennials and digital transformation while briefing segments
Idea Validation
Marketing and Digital Transformation
Innovation Management
Business Modelling
Financial Mapping
Market Research
Networking
Making business Pitch
Synopsis of Ideas
Team
Startup Name
Synopsis
1.
NAZAR
This startup aims to launch a (Public or organizational transportation) Bus/Vehicle Tracking & Monitoring Company which will provide a vehicle tracking setup along with the Mobile Application which will allow user to view vehicle schedule, location and maintenance update to reduce risk factors. This also aims to control fuel pilferages
2
[email protected]
Wewill offer plug & play home automation solution for layman using the concept of WoT (Web of Things) and AR (Augmented Reality) along with the support of physical objects as interfaces. We will introduce a remote control device which can be used for controlling all devices of a home. Interactions with remote control can be customized through an android application and that application can also be used for controlling all devices through internet.
Wewill offer broad range of devices and kits to target different segments of customers. Users can also capture events of one device and can bind it to other devices as everything will be fully automated and fully customizable. We will also introduce an effective package of remote health monitoring solutions for senior citizens and children. .
3
Tech-Kheiti
In TechKheiti we will provide services of drones for farmers through kinect, mobile and windows applications. Drones would collect information of crops through attached camera and then it will analyze photos to give value able information to control quality and quantity of crops. This would help them in remote supervision. We will also provide services for monitoring disaster management, We will sell our product to rescue authorities or government so that they can easily view affected area and can detect people by special sensors.
4
CGER
To reduce electricity bills of formers we introduce energy recycling concept. In this process we generate electricity from potential energy of tube well water and give this feedback energy to drive tube well (Motor). We would integrate Wapda with this energy in order to reduce cost of electricity and availability 24/7.
5
SARC
We are a research and consultancy firm with a vision to facilitate researchers in data analysis and provide solution with local adaptation. We will provide solutions to local industry based on data analysis and respective research
6
Modish.pk
We aim to bring concept of compatibility in jewelry. We will be launching compact jewelry range in the market. It will be of such kind that if user compress the necklace lightly it will be converted into hand bracelet and further even into hand ring. It´s a highly versatile product with multiple uses. We aim to provide repair services which no other firm is. This is a versatile yet low cost product.
7
Jet Chef
The ´Jet Chefs´ aims to start up mobile food carts providing the quality hygienic food at nominal costs through delivery. It would take online orders and would be placed in Institutes providing timely, and hygienic food.
8
Rebos
People want to try other than conventional meats. The issues is availability. Our idea is to provide people with these options at their doorstep through online meat shop assuring hygiene.
9
Cooking & Finishing School
We will teach young students how to measure, stir, peel and pour using fun and familiar kitchen tools and supplies. Along with it table manners, ethics, time management and grooming along with their studies. Fundamental life skills such as kitchen knife skills, meal planning, etiquette, entertaining and seasonal activities complement our exceptional program.
10
UOG game studio
Gaming has become more than a fad, it is a part of life. We are designing a street football game that would take them around virtually in their own streets and help them reconnect and map their grounds through their camera.
11
I-medi
Medical Simulators give hand on experience to medical professionals and Students about invasivesurgery and interventional procedures. We will make it in with local diversity of materials and intensive ness of technology. The startup would have 1st mover advantage and will cater the huge gap in Sialkot Surgical Industry.
12
Ceramic hub
The vision is to contribute from qualified professionals to Industry, and classify their problems, which they are facing, in form of Ascetics, Mechanics, Technical and Materials, and give them a solid and easy resolution. And in the other side, this company will work for bring awareness and revolution of Design among our society, that how can Ceramics help people to get better Interior & Exterior solutions, as following the International standers. It is the need of time to establish a state-of-the-art corporation for the enhancement of aesthetic and technical innovation in Industry.
13
Digital Motion Art
We offer innovative one stop solutions for all digital needs, advertising, animations, film and T.V productions. We will be providing not only advertising facilities to industries but also documentaries public service message campaigns to government and non-government organizations. We also offers animations and visual effects for the film & T.V industries with high quality that will meet the international standards.
14
SammarSheerien
Hygiene and health is a major issue now. A considerable number of people are diabetic patients, suffering from heart diseases and cloistral. We have an innovative idea combining hundred percent natural fruit pulp, healthy low cloistral, and low fat ingredients and presented as a new version of Sweets or METHAI. The other major issue is the recent sugar crisis that affected confectionary industry as much as it affected the life of a common man. This product fulfills the demand of the natural ingredients in terms of sweet or METHAI. It also best fits in our traditional and cultural demand.